[ Scott's Gulf Home ]
[ Scott's Gulf Virtual Tour ]
---
Amber's Den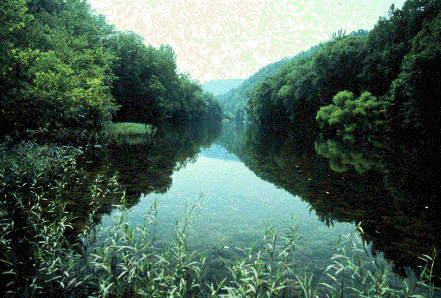 At the far end of this pool (once known as the Welch Hole), down a narrow alley in the side of a steep bluff, is the small cave known as Amber's Den. This cave, which has only one small room and a few narrow crevices in the back, has a fascinating history, according to Rev. Monroe Seals' History of White County and old newspaper articles.
In the late 1800's, Ambrose (Ambers) Davis, a very fine carpenter from one of White County's first and most prolific families, left to find his fortune "out west" with a new wife. When he returned a few years later, alone and mentally disturbed, he moved into the small cave along Welch Hole and took up the life of a hermit. Although most people regarded him as harmless, at times he hinted that he had killed his ex-wife and a man living with her. At other times, when someone managed to creep up and surprise him, he would jump from the door of his cave into the river and swim away, even in midwinter. Nevertheless, his woodworking was perfect long after he became deranged, and so he was able to barter for the things he could not make or kill himself, in exchange for wooden spoons, biscuit boards, rolling pins, wooden trays and other items. Ambers subsisted on roasting ears, coon, possum and other animals he could catch, and claimed that his favorite was black snake soup, "although skunk meat was among the finest if carefully skinned." When he became old, Ambers was taken to the county farm, but he soon escaped, swimming upriver, and returned to his home in the Gulf. Unfortunately, he was recaptured and hauled away to the farm once more, where he later died.
Welch Hole is now commonly referred to as Ambers Den Pool, a lasting tribute to this colorful character from the Gulf's history.
---
Go back to the previous stop on the Scott's Gulf Virtual Tour.

Go on to the next stop on the Scott's Gulf Virtual Tour.

Return to the tour map to choose your next destination on the Scott's Gulf Virtual Tour.

Return to the Scott's Gulf Home Page.

We welcome your comments or bug reports
via email to your friendly, neighborhood speleoweb hostess,
April Hannah, NSS #35012.

This page, http://www.tntech.edu/www/life/orgs/grotto/Gulf/tour/amber.html, validates as HTML 3.2