[ About UCG ] [ Caving Safely ] [ Cave Conservation ] [ TAG Caving ]
[ Gallery Underground ] [ The Entrance ]
---
"There are few places in the Upper Cumberlands that are not special
to someone. There are even fewer places that are special to everyone.
Scott's Gulf is one of those places."
[ Scott's Gulf Virtual Tour ] [ Scott's Gulf History ] [ Scott's Gulf Today ]
[ Scott's Gulf FAQs ] [ Friends of Scott's Gulf ] [ Archives ]
---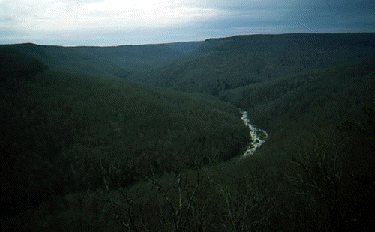 Ask someone "What is Scott's Gulf?" and you might be surprised at the many different answers you get. A whitewater enthusiast might reply that Scott's Gulf is the rugged, whitewater river canyon that has been carved in the Cumberland Plateau by the Caney Fork River as it flows between Clifty and Sparta, Tennessee, creating Class IV and Class V rapids along its length. A hiker might reply that Scott's Gulf is one of the largest remaining tracts of natural deciduous hardwood forest still standing on within the State of Tennessee, providing an ideal spot for backpacking and a vital habitat for many species of animals and plants. A gardener might reply that Scott's Gulf is the place where you go if you want to see masses of yellow lady's slipper orchids, mountain laurel and flame azaleas blooming each springtime in their natural environment. A caver would be sure to point out that Scott's Gulf is a deep incision in the Cumberland Plateau which contains many fine caves, as well as rock shelters, high bluffs, spectacular overlooks and pristine waterfalls. But what else is Scott's Gulf?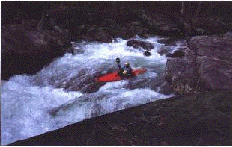 From a geographer's point of view, Scott's Gulf is the river gorge that stretches for 18 miles between the Clifty Bridge and Big Bottom Cove in White County, Tennessee, southeast of the county seat of Sparta. Counting the uplands of the gorge, the in-feeder Bee Creek, as well as the gorge itself, Scott's Gulf comprises approximately 21,300 acres, much of which is still privately owned. Of that total acreage, approximately 10,000 acres has been donated to the State of Tennessee by Bridgestone/Firestone, Inc., in the last five years. Known as the Bridgestone/Firestone Centennial Wilderness, this wilderness area is managed by the Tennessee Wildlife Resources Agency as a permanent public wilderness area. Another 1650 acres is owned by Bowater, Inc.; however, Bowater has already dedicated 315 of that to public use as the Virgin Falls Pocket Wilderness Area, an area that is very popular in the Southeast for wilderness camping, caving and hiking. Yet, this still doesn't completely define the Gulf.
From an investor's point of view the Gulf is a huge area of mostly untapped natural resources: coal veins and other mineral deposits; between 16 and 20 million board feet of valuable hardwood timber; potential home sites; or lucrative commercial developments and recreational concessions, such as golf courses, tennis courts and swimming pools. Don't be surprised--like it or not, this is how some people look at Scott's Gulf. If we want to preserve the Gulf as it is now, then those of us who love it must work together to ensure that this vision for Scott's Gulf never becomes a reality. Contact us here to find out how you can help.
You can spend a day there, a week there, a month there, but only with the slow passage of years, as ceaseless as the seasonal rise and fall of the river, can you come to truly know and appreciate the Gulf. If you'd like to learn more, you've come to the right place to begin your journey.
[ Take the Virtual Tour of Scott's Gulf ]
[ Return to the Trailhead ]
---
Go back to the Entrance of the Upper Cumberland Grotto's Home Cave.

[ TTU Home Page ]
We welcome your comments or bug reports
via email to your friendly, neighborhood speleoweb hostess,
April Hannah, NSS #35012.

LE FastCounter
This page, http://orgs.tntech.edu/grotto/Gulf/index.htm, validates as