"Leave Nothing but Footprints, Take Nothing but Pictures, Kill Nothing but Time."
[ About UCG ] [ Scott's Gulf ] [ Cave Safety ]
[ Cave Conservation ] [ The Entrance ]
---
A Photographic Gallery of Some
of TAG's Finest
THE THRILL OF EXPLORATION -- Part 2
The following slides are the second part of a two-part series on initial exploration of a cave that is now well known to many Tennessee cavers. This portion of this exhibit shows some incredible gypsum formations that several of our audience members should recognize.
---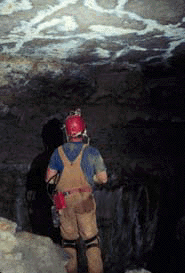 Beyond the larger breakdown passages, Red Neil stops to gaze at a ceiling that portends gypsum just ahead.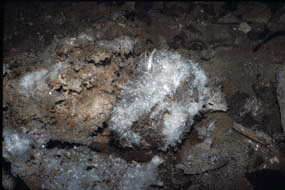 Gypsum becomes noticeable on rocks along the trail about one hour into the cave. Large clumps of it appear on a shelf just to the right of the path, as the explorers approach what will become known as the cave's premier formation area. This area is now prominently flagged and marked to protect these delicate crystalline formations.
One of the first encountered, and certainly among the most unusual, gypsum features in the cave are these long, grey ribbons, although they are in a location where they could be easily missed by inattentive cavers. The lens cap in this photo was placed there for scale.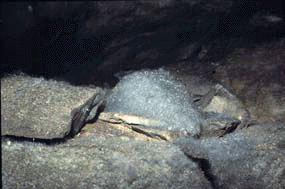 Gypsum "foam" coats the breakdown throughout this section of the cave.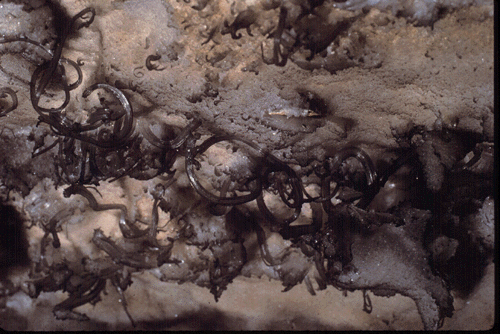 This closeup of some of the gypsum curls growing on the ceiling shows off their true delicacy and beauty, as well as the precariousness of their nature. It is all too easy to bump formations such as these with your helmet or back, destroying them forever.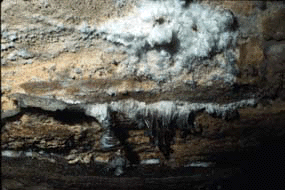 Small gypsum beards and ruffs grow from the ceiling.....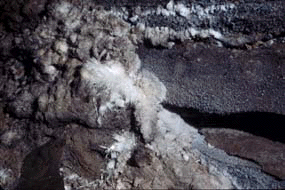 ....while cottony gypsum flowers creep along every available surface. Although the defined formations, such as flowers, ribbons and ropes, appear relatively unchanged all year long, gypsum snow and the finer forms are noticeably more prolific in the winter months, especially when the cave has not been disturbed by visitors in some time.
One of the crowning graces of the cave are these dangling gypsum ropes. Several clumps of these, about one to two feet long, grow high in a secluded alcove off the obvious path. Hopefully, their placement there will help protect them from the negative effects of caver traffic.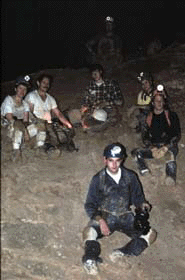 After discovering so much new cave and so many beautiful formations, our group of explorers look pretty tired....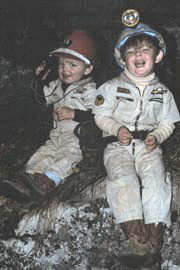 ....with the exception of Emery and Eric Hannah, who seem, not only delighted, but completely unwearied by all the day's discoveries and adventures.
---
Visit This Month's Gallery Underground.
Go back to the TOP of this trail.
Go back to the Entrance.

[ TTU Home Page ] [ Scott's Gulf ]
We welcome your comments or bug reports
via email to your friendly, neighborhood speleoweb hostess,
April Hannah, NSS #35012.
This page, http://orgs.tntech.edu/grotto/oldgallery.html, validates as

(C) Copyright 2014, April Moore for the Upper Cumberland Grotto of the NSS. All Rights Reserved. Photos and text available on this web site are the property of individual members and friends of the Upper Cumberland Grotto. Failure to request permission before saving the contents of these web pages to disk for your own use is a violation of the U.S. Copyright Law.
---